Kairo Park: Magic and dreams
in the palm of your hand.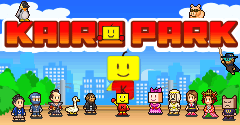 New Apps 

Announcements

Nov.:
Pocket Harvest
released
July:
Pocket League Story 2
released
Mar.:
Ninja Village
released
Feb.:
Pocket Stables
released



These apps work on compatible handsets running Android OS.



Pocket League Story 2


FREE

sequel to the hit soccer sim! Supercharged with new features like penalty shootouts and online play!




Dream House Days
Design a

dream home

where
dreams come true!




Beastie Bay
Develop a deserted island
and collect rare

monsters!







It's our first

FREE

game!
Tell your friends! Hit the button and tweet the news!




Pocket Harvest
Grow the ultimate farm from the ground up-- complete with tours and hot air balloons!




Ninja Village
Develop your ninja clan into
an army fit for a shogun!




Pocket Stables
Manage a ranch while training
your racehorses to race
for a Triple Crown.




Dungeon Village
Build a flourishing RPG town
that warriors and merchants
alike will flock to!




Venture Towns
Build and run your very
own

urban dreamland!






The Pyraplex
Build a towering pyramid the
whole world will scramble to see!




Oh! Edo Towns
Build the best

samurai town


in all of

medieval Japan!






Kairobotica
Restore interplanetary peace and
lead the Kairobot Corps to glory!